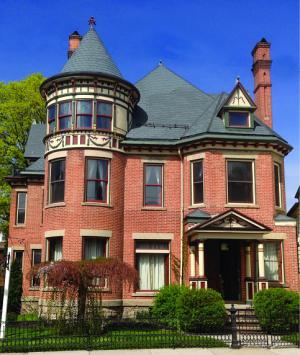 The Gage Mansion is a historic Queen Anne Victorian that was commissioned by Colonel George F Gage, the superintendent of the Huntingdon and Broad Top Railroad, in 1896. Blueprints were drawn by George Barber, a prominent architect of Victorian homes. Dozens of Barber's painted ladies remain intact across the country and are listed on the Register of Historic Places just like ours. Colonel Gage incorporated many elegant details into the building of his home such as Italian marble, stained glass windows, and six intricately carved fireplaces; but his greatest claim as a status symbol was his ownership of the first telephone in town!
In 2014, John and Angie Thompson purchased the property. "We wanted to share its splendor by opening the Gage Mansion as a bed and breakfast. Renovations to bring the home into the 21st century started by adding six bathrooms," explained Thompson. "Design details include Italian marble tile floors and shower surrounds and meticulously matched wooden trim. For our guests' comfort, individual climate control was added to each suite, along with WiFi, and TV. Our tranquil spaces are furnished with comfortable, elegant appointments, compelling our guests to unwind. In the morning, guests enjoy a hearty breakfast of fresh, locally sourced ingredients."
Join us in this grand historic home nestled in the heart of downtown Huntingdon amidst the lush Allegheny mountains! Dining, shopping, outdoor recreation, and sites of historical interest are all within walking distance. We look forward to welcoming you!
For your convenience, here are a few details to help you plan and enjoy your time while visiting us:
CHECK IN between 3:00 pm – 6:00 pm. Due to staffing, please notify us well in advance, PRIOR to your day of arrival, if you anticipate a later arrival. Arrivals outside of the normal check in window may require a self check-in. We offer a streamlined self check-in process with customized and detailed arrangements to make it convenient and easy. We are happy to make this work for you so you do not feel rushed!
PARKING: We offer convenient and secure off street parking located behind the Inn at 316 Washington Street, Huntingdon, PA 16652. You can access entrance to the mansion for check in from the gate on the left side which leads through the courtyard and to the back poarch.
CHECK OUT by 11:00 am. Due to high turnover and incoming reservations we are unable to accommodate late departures past 11:00 AM. Occasionally, exceptions can be made. Please see the Innkeeper to check availability. Thank you in advance for your respect of our check out time allowing us to prepare for our incoming guests.
CANCELLATION notices for Standard Rate reservations must be received (14) fourteen days prior to the date of arrival to avoid forfeiture of the balance due for your full stay. If we are able to re-book your room, we are happy to offer a refund.
NON-REFUNDABLE RATES: Our Best Available rate is the non-refundable rate. This is the best option if your plans are very unlikely to change. The entire balance of your stay is charged at the time of booking. No refunds are given when you book the Best Available, Non-refundable rate. Your payment will be forfeited if you cancel, change dates, or change rooms.
BREAKFAST: We serve a full breakfast every morning between 8:30 and 10:00 a.m. For our business travelers on Monday - Thursday with notice, we can prepare breakfast as early as 7:15 am if needed. Please let us know in advance if you have any dietary restrictions.
PETS: We are unable to accept pets, however Huntingdon has a wonderful Doggie Daycare and Boarding service very close to the Inn at only 2.5 miles away. Please view their services at https://dogwooddoglodge.com/contact/.
CHILDREN: We are an adult only establishment.